Marathon Staffing - Phoenix, AZ
Marathon Staffing - Phoenix Office
801 S 75th Ave, Suite 100, Phoenix, AZ 85043
Tel: 602-975-4726
Fax: 602-419-2126

Tuesday
8:30 AM - 5:00 PM
Wednesday
8:30 AM - 5:00 PM
Thursday
8:30 AM - 5:00 PM
Marathon Staffing looking for a responsible entry level Quality Inspector to check the quality of all incoming and outgoing material and products as well as production procedures. This position is a direct hire. ...
Read More »
Marathon Staffing is looking for a competent CNC Operator to use computer numerically controlled (CNC) machinery safely and accurately to perform a variety of functions. Your job is important since some materials are not...
Read More »
Marathon Staffing is seeking production workers for a Cookie warehouse in Glendale area. All positions are available immediately with weekly pay and benefits. Job Summary The ideal candidate will be stationed either rolling...
Read More »
Ready to Hire Some Great People?
Let's Schedule a Conversation to Learn What Makes an Employee Great for Your Team
More Than Just a Job Placement
No matter the resources our Community Partners provide, they play a critical role in ensuring that Team Members are equipped with the tools and resources necessary to succeed!
Career Development
With the emergence of the pandemic, many people have been forced to move to a new normal – working remotely. Being a parent working from
Read More »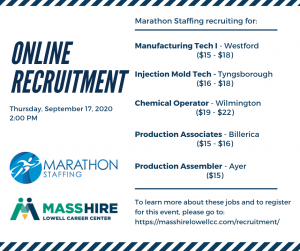 Recruiting
Marathon will be participating in an Online Recruitment event taking place next Thursday, September 17, 2020 at 2:00 PM EST. You can learn more about
Read More »
Career Development
You just finished up your interview and totally knocked it out of the park. Your work is done, right? Not so fast! Many hiring managers
Read More »