1270 E. Broadway Road, Suite 110 Tempe, AZ 85282
Tel: 480.867.6810
Fax: 480.867.6815
Principal Duties and Responsibilities*Moves and secures lumber products and other materials according to instructions*Stacks finished products according to predetermined bundle sizes and/or customer requirements*Labels material...
Read More »
Responsibilities include, but may not be limited to:Unload trailers both manually and using warehouse equipment, including Pallet Jacks, Electric Pallet JacksBreak down and wrap mix pallets for both dry and refrigerated...
Read More »
Summary: Warehouse associate will input, sort, load and unload products. Will also perform various warehouse duties.Qualified candidates will:• Entry level• Must have the ability to operate electric pallet jack and other...
Read More »
Career Development
With the emergence of the pandemic, many people have been forced to move to a new normal – working remotely. Being a parent working from
Read More »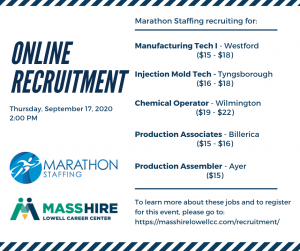 Recruiting
Marathon will be participating in an Online Recruitment event taking place next Thursday, September 17, 2020 at 2:00 PM EST. You can learn more about
Read More »
Career Development
You just finished up your interview and totally knocked it out of the park. Your work is done, right? Not so fast! Many hiring managers
Read More »
Ready to Hire Some Great People?
Let's Schedule a Conversation to Learn What Makes an Employee Great for Your Team
More Than Just a Job Placement
No matter the resources our Community Partners provide, they play a critical role in ensuring that Team Members are equipped with the tools and resources necessary to succeed!