Marathon Staffing - Las Vegas, NV
Marathon Staffing - Las Vegas Office
6785 S. Eastern Avenue, Suite 2, Las Vegas, NV 89119
Tel: 702-307-1320
Fax: 702-307-1324

Tuesday
8:30 AM - 5:00 PM
Wednesday
8:30 AM - 5:00 PM
Thursday
8:30 AM - 5:00 PM
Bilingual Convention Staff (French, German, Mandarin)Compensation: $17- $20 Marathon Staffing, a premiere Special Event Staffing company, is currently hiring bilingual individuals to work at exciting international events that is...
Read More »
Marathon Staffing is currently seeking qualified Management Analyst II candidates who has experience in managing budgets accounts, highly skilled in excel, accounting, and can adapt to a fast-paced environment. This is a...
Read More »
Marathon is currently hiring Food Service Workers to work at various school cafeterias in Las Vegas and surrounding areas. We are seeking reliable personnel who have a current valid Health Card (or be willing to obtain one) and...
Read More »
Ready to Hire Some Great People?
Let's Schedule a Conversation to Learn What Makes an Employee Great for Your Team
Career Development
With the emergence of the pandemic, many people have been forced to move to a new normal – working remotely. Being a parent working from
Read More »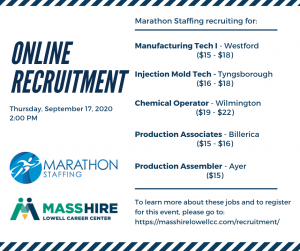 Recruiting
Marathon will be participating in an Online Recruitment event taking place next Thursday, September 17, 2020 at 2:00 PM EST. You can learn more about
Read More »
Career Development
You just finished up your interview and totally knocked it out of the park. Your work is done, right? Not so fast! Many hiring managers
Read More »