Marathon Staffing - Tyngsboro, MA
Marathon Staffing - Tyngsboro Office
164 Westford Road, Suite 10, Tyngsboro, MA 01879
Tel: 978-649-2488
Fax: 978-649-6478

Tuesday
8:30 AM - 5:00 PM
Wednesday
8:30 AM - 5:00 PM
Thursday
8:30 AM - 5:00 PM
TIG Welder Marathon is a growing workforce solutions provider with over twenty offices nationwide offering employees amazing flexibility in exploring new opportunities, learning new skills through on the job training, and peace of...
Read More »
General Help Billerica, MA Job Duties: *Shipping and receiving Support *Packaging customer products *Loading and unloading vehicles *Cosmetic grinding & deburring customer product *Stock cutting support *Sheet Metal &...
Read More »
CNC Machinist Billerica, MA Job Duties/Experience: *CAD programming skills would be a plus. *Must have very good blueprint reading skills. *CNC lathe experience would be helpful but not necessary, willing to train. *Manual...
Read More »
Ready to Hire Some Great People?
Let's Schedule a Conversation to Learn What Makes an Employee Great for Your Team
Career Development
With the emergence of the pandemic, many people have been forced to move to a new normal – working remotely. Being a parent working from
Read More »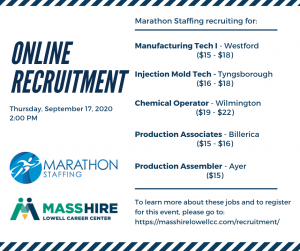 Recruiting
Marathon will be participating in an Online Recruitment event taking place next Thursday, September 17, 2020 at 2:00 PM EST. You can learn more about
Read More »
Career Development
You just finished up your interview and totally knocked it out of the park. Your work is done, right? Not so fast! Many hiring managers
Read More »