1801 N. Hampton Road, Suite 331  DeSoto, TX 75115
Tel: 972.905.4640
Fax: 972.905.4644
Strategic Account Manager
Essential Duties and Responsibilities include but may not be limited to the following: • Must follow established procedures for completing daily tasks and seek guidance fro supervisor when confronted with...
Read More »
Cafeteria Workers for Dallas Schools Needed!!!If you want a Monday through Friday schedule and have all afternoons off this is the Place!! We have several positions available to work at Dallas Schools in DISD. You will be off...
Read More »
Marathon is company with over 30 years of experience matching candidates with job opportunities. Team members have the opportunity for career growth in this position. We currently have positions for Parks Technicians with our...
Read More »
Career Development
With the emergence of the pandemic, many people have been forced to move to a new normal – working remotely. Being a parent working from
Read More »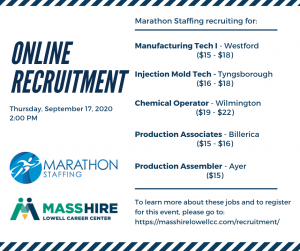 Recruiting
Marathon will be participating in an Online Recruitment event taking place next Thursday, September 17, 2020 at 2:00 PM EST. You can learn more about
Read More »
Career Development
You just finished up your interview and totally knocked it out of the park. Your work is done, right? Not so fast! Many hiring managers
Read More »
Ready to Hire Some Great People?
Let's Schedule a Conversation to Learn What Makes an Employee Great for Your Team