Marathon Staffing - Boston, MA
Marathon Staffing - Boston Office
108 Lincoln Street, Suite 1B, Boston, MA 02111
Tel: 617-424-7240
Fax: 617-424-6851

Tuesday
8:30 AM - 5:00 PM
Wednesday
8:30 AM - 5:00 PM
Thursday
8:30 AM - 5:00 PM
Marathon Staffing is looking for Assemblers to help with the operations of a manufacturer in Templeton, MA No experience necessary; training provided Team Member Benefits: Training for the job is provided Weekly pay: direct...
Read More »
Start the new season and new month off with a new job. You can apply today and be scheduled to start your new job TOMORROW!! Learn all aspects of Silk Screen printing and custom Graphic design featuring some of the most innovative...
Read More »
Converting Operator Description/Job Summary Position Objective Produce the highest quality product meeting the customer's specification through safe operation of the assigned equipment. Qualifications • High school graduate...
Read More »
Ready to Hire Some Great People?
Let's Schedule a Conversation to Learn What Makes an Employee Great for Your Team
Career Development
With the emergence of the pandemic, many people have been forced to move to a new normal – working remotely. Being a parent working from
Read More »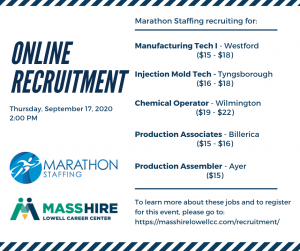 Recruiting
Marathon will be participating in an Online Recruitment event taking place next Thursday, September 17, 2020 at 2:00 PM EST. You can learn more about
Read More »
Career Development
You just finished up your interview and totally knocked it out of the park. Your work is done, right? Not so fast! Many hiring managers
Read More »