Community Driven Staffing
Marathon exists to help
people achieve.
Marathon Staffing and a global leading lumber company located at Salisbury N.C. NOW HIRING!!! We are looking for reliable associates who enjoy working OVERTIME, depending on work volume. Also due to Covid 19 we are taking...
Read More »
Finding a job alone can be difficult, but working with Marathon is easy. With over three decades in the staffing industry, we have helped thousands of people find a job fast.
We Help You Find Your Next Job
With 20+ locations throughout the United States, there is sure to be an office near you. No experience is required to apply, we provide training and resources to help you achieve!
People-first staffing company that works with your team to increase retention and engagement.
Career Development
With the emergence of the pandemic, many people have been forced to move to a new normal – working remotely. Being a parent working from
Read More »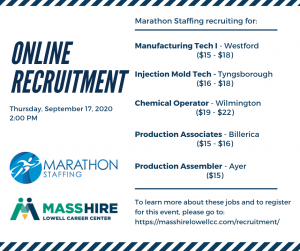 Recruiting
Marathon will be participating in an Online Recruitment event taking place next Thursday, September 17, 2020 at 2:00 PM EST. You can learn more about
Read More »
Career Development
You just finished up your interview and totally knocked it out of the park. Your work is done, right? Not so fast! Many hiring managers
Read More »
Want to know what it's like working with Marathon?