950 Garland Road
Rowesville, SC 29133
Explore this Essentially Awesome Career Opportunity
Marathon Staffing is seeking reliable candidates for Skilled Assembly positions available in Orangeburg, SC!! Assemblers work with hand tools and lumber to build crates, pallets and cement molds, according to customer...
Read More »
Marathon Staffing is seeking candidates for 2nd Shift, Mill Saw/Machine Operator positions available immediately in Rowesville, SC!! Saw Operator is responsible for the set up and operation of a single-blade saw to complete orders...
Read More »
Marathon Staffing is seeking a qualified candidate for a Quality Inspector position open in Rowesville, SC. Responsibilities and duties: Monitors, Reviews and Conducts Quality Assurance Assesses failures in the process developed...
Read More »
Career Development
With the emergence of the pandemic, many people have been forced to move to a new normal – working remotely. Being a parent working from
Read More »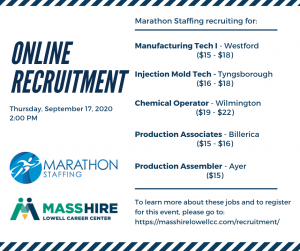 Recruiting
Marathon will be participating in an Online Recruitment event taking place next Thursday, September 17, 2020 at 2:00 PM EST. You can learn more about
Read More »
Career Development
You just finished up your interview and totally knocked it out of the park. Your work is done, right? Not so fast! Many hiring managers
Read More »
Ready to Hire Some Great People?
Let's Schedule a Conversation to Learn What Makes an Employee Great for Your Team
More Than Just a Job Placement
No matter the resources our Community Partners provide, they play a critical role in ensuring that Team Members are equipped with the tools and resources necessary to succeed!