38 Main Street
Leominster, MA 01453
Tel: 978.840.8887
Fax: 978.840.8886
Marathon is a growing workforce solutions provider with over twenty offices nationwide offering employees amazing flexibility in exploring new opportunities, learning new skills through on the job training, and peace of mind...
Read More »
Marathon Staffing is looking for Inspector/Packer Operators to help with the operations of a manufacturer in Sterling, Ma No experience necessary; training provided Team Member Benefits: • Training for the job is provided...
Read More »
Welder Ayer, MA Marathon has a client that is one of the largest defense contracts looking to hire a Welder in the Ayer, MA area. We are hiring during Covid-19. Hours: 6:00 a.m. to 3:30 pm. Responsibilities: • Joins,...
Read More »
With the emergence of the pandemic, many people have been forced to move to a new normal – working remotely. Being a parent working from
Read More »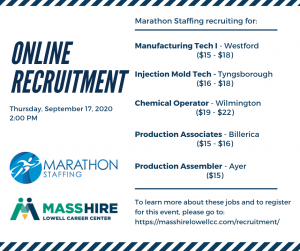 Marathon will be participating in an Online Recruitment event taking place next Thursday, September 17, 2020 at 2:00 PM EST. You can learn more about
Read More »
You just finished up your interview and totally knocked it out of the park. Your work is done, right? Not so fast! Many hiring managers
Read More »
Ready to Hire Some Great People?
Let's Schedule a Conversation to Learn What Makes an Employee Great for Your Team