164 Westford Road, Suite 17
Tyngsboro, MA 01879
Tel: 978.226.7156
Fax: 978.649.9906
Sr. Recruitment Program Manager
Marathon is seeking candidates for multiple Production / Manufacturing jobs in Tempe, Arizona. As a Production Manufacturing team member, you will assist in all aspects of the productions team such as packing/boxing of finished...
Read More »
Career Development
With the emergence of the pandemic, many people have been forced to move to a new normal – working remotely. Being a parent working from
Read More »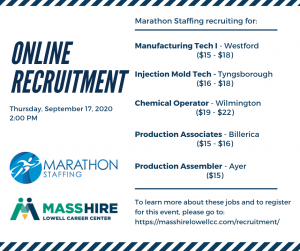 Recruiting
Marathon will be participating in an Online Recruitment event taking place next Thursday, September 17, 2020 at 2:00 PM EST. You can learn more about
Read More »
Career Development
You just finished up your interview and totally knocked it out of the park. Your work is done, right? Not so fast! Many hiring managers
Read More »
Ready to Hire Some Great People?
Let's Schedule a Conversation to Learn What Makes an Employee Great for Your Team
More Than Just a Job Placement
No matter the resources our Community Partners provide, they play a critical role in ensuring that Team Members are equipped with the tools and resources necessary to succeed!"